The university remains open, with emergency management protocols activated and operational modifications and precautions in place. Read the latest updates.
Formal Resolution
When a student has a second Academic Integrity Violation, if the student chooses to not take responsibility for an alleged violation, or the faculty member chooses to refer the case to the Office of Student Conduct, the case will be heard by the Academic Integrity Board (AIB).
Detailed instructions for the Formal Resolution Process:
Notification is sent to both the student and the faculty member regarding the date and the specific charges of academic dishonesty, including an outline of the information to be introduced during the hearing. Formal notification is delivered to the accused student and faculty member at least five academic days, including final examination days, prior to the hearing.
The advisor for the AIB will meet with both the student and the faculty member separately to review the process of the hearing. During the meeting, documentation pertaining to the alleged violation is reviewed and both faculty and student have an opportunity to ask questions and prepare their cases for the board. The documentation provided by both faculty member and student will be presented in a briefing packet to the AIB.
The AIB will determine if a student is in-violation or not in-violation of the Academic Integrity Code. If a student is found in-violation of the code, the AIB will determine appropriate educational sanctions which will not go below the recommended sanction(s) of the faculty member. When found in-violation, the outcome of the hearing will remain a part of the student's educational record for five years. Both faculty and student will be formally informed of the outcome of the board (whether found in-violation or not in-violation) via written notice.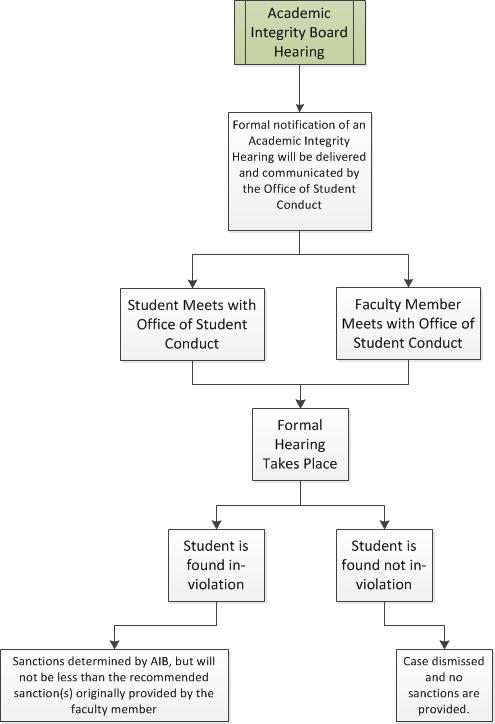 For more information regarding hearings, please reference the Academic Integrity Code .